Stay tuned for our 2023 legislative agenda. In the meantime, read our 2022-2023 Housing Policy Guide to stay informed on thoughtful, strategic practices to improve Rhode Island's state of housing. 
Homes RI would like to express our gratitude to everyone who has supported our legislative agenda and efforts to improve availability of and access to safe, decent, affordable homes for low and moderate income Rhode Islanders across the state.
This year we saw many bills introduced that were aimed at making substantial investments in affordable homes, reducing barriers to development, and promoting housing stability. We saw $250 million approved for affordable homes and homelessness using American Rescue Plan Funds. These bills built on important initiatives enacted during the 2021 session, such as the creation and seeding of the state's first dedicated Housing Production Fund, Pay for Success Act, and Fair Housing Practices Act (Source of Income Protection). It is the collective advocacy of our dedicated partners and supporters who elevated housing as a top priority for our Legislature that made this emphasis on affordable homes and homelessness so prevalent, and for that, we thank you.
We would also like to acknowledge the strong leadership of the Governor and RI General Assembly in propelling us toward these crucial legislative wins and thank them for prioritizing housing in their agenda.
Our annual legislative agenda is developed by the Policy & Advocacy Working Group and approved by the Homes RI Steering Committee. It aligns with our Policy Priorities and Framework. For more information about our Legislative Agenda, contact Katie West at kwest@housingnetworkri.org.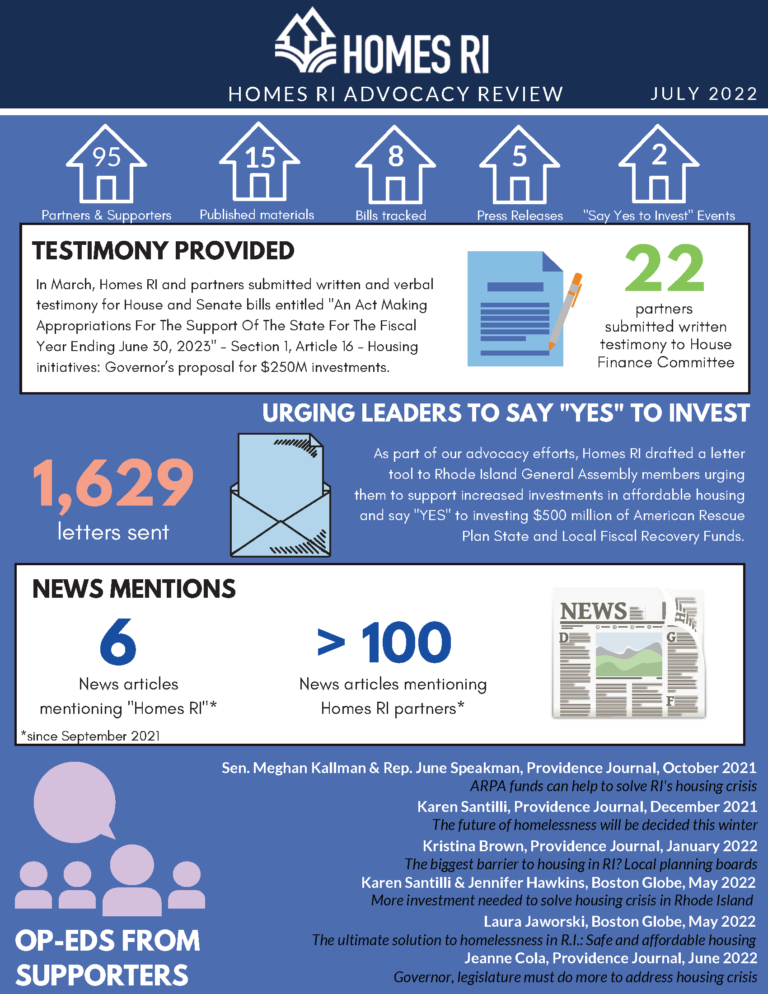 Invest to Build and Preserve Safe, Healthy and Affordable Homes
To ensure that all Rhode Islanders live in healthy, safe, and affordable homes in thriving communities, and to realize the multitude of economic benefits – including cost savings – that such homes create, we must commit to making serious investments to increase the supply and preservation of long-term affordable homes. The American Rescue Plan Act provides an extraordinary opportunity for federal investment to respond to the coronavirus public health emergency, help redress its devastating economic effects, and make the long-term housing investments our state needs.
Invest $500 million of State Fiscal Recovery Funds to produce, preserve, and protect long-term affordable homes, increase housing stability statewide, and support cities and towns to create and preserve safe and healthy homes. This includes:

$350 million to produce, preserve and protect at least 2,500 long-term affordable homes and provide homeownership opportunities through down payment assistance.

$60 million to achieve "functional zero" for homelessness and stabilize extremely low-income renter households.

 $90 million to support cities and towns in creating and preserving safe, healthy, and affordable homes and resources to address housing quality conditions.
Remove Barriers to Accessing Safe, Healthy and Affordable Homes
We support removing legal, administrative, regulatory, and economic barriers to accessing quality housing.
Enact legislation that promotes new residential development for low and moderate income households, and preserves the viability of existing long-term affordable homes. We support enacting changes to the Low and Moderate Income Housing Act and land use policies to promote residential development, as well as complementary policy and legislative proposals that achieve these goals.

Enact legislation that reduces evictions and increases housing stability of low income renters. We support legislative policies to achieve these goals including sealing eviction records, requiring regular health and safety inspections of rental units and certificates of suitability, establishing a court-based eviction diversion mediation program for landlords and tenants, and "good cause" provisions for termination of tenancy.
Together, we can work to ensure all Rhode Islanders live in safe, healthy, affordable homes.