2022-2023  Housing Policy Guide 
Homes RI's 2022-2023 Housing Policy Guide was crafted by housing practitioners, health equity experts, philanthropic organizations, and importantly, community members, residents and voters living and working in Rhode Island.
16
Voters registered*
*Three first-time voters
15
Mail ballot applications filed
36 
Voters who checked their registration status
8
New partnerships or staff trainings
16
Voter engagement/ community events
We know that housing opportunities are directly tied to the choices we make at the ballot. Through the Our Homes, Our Votes grant, we strengthened and expanded our voter mobilization, engagement, and education activities in 2022.
In addition to supporting voter access legislation, our team engaged directly with residents and Homes RI partners to strengthen voter education and mobilization within our communities. By providing regular updates and reminders to our network, we were able to encourage Rhode Islanders to participate in the 2022 elections and make their voices heard. Additionally, we drafted a 2022-2023 Housing Policy Guide to help shape concerned Rhode Islanders' discussions with legislators about informed strategies to improve our State's affordable housing.
Rhode Island Expands Voting Access
Exciting news! Thanks to your support, the Let RI Vote Act has been signed into law. The Let RI Vote Act (S2007), sponsored by Representative Katherine Kazarian (D) and Senator Dawn Euer (D), will make access to exercising the right to vote for Rhode Islanders a lot easier by:
Allowing voters to apply for a mail ballot online
Offering the choice to vote by mail without an excuse
Removing the notary and witness requirement for mail ballots
Establishing a multi-lingual voter hotline
Reducing application deadline for voters to request a Braille ballot from 45 days to 21 days before the election
Requiring at least one ballot drop box for each community
Expands eligibility for nursing home residents to opt-in to automatically receive an application for a mail ballot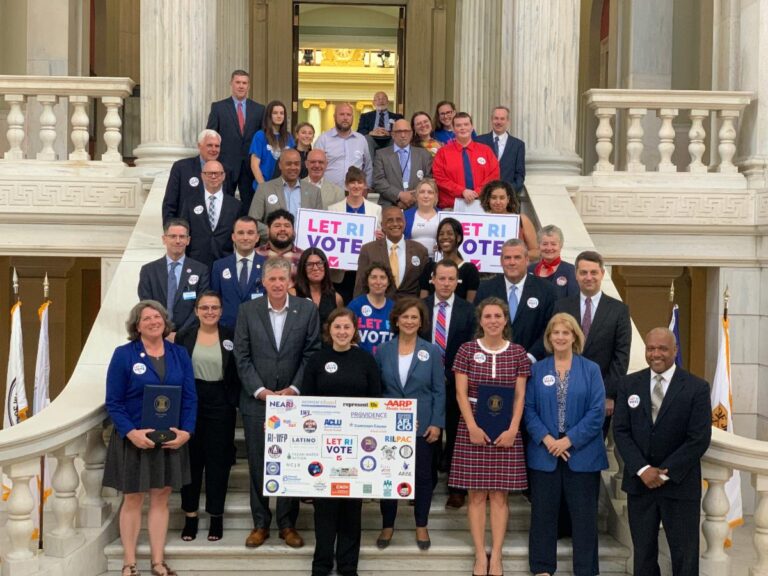 Thank you for those of you who showed up in support of the LRIV! With your successful advocacy, Rhode Islanders will benefit from improved voter access for the 2022 elections and beyond. We look forward to supporting future policy recommendations to continue to improve Rhode Island's access to the ballot.
Housing Providers Encouraged to Support Voter Registration & Engagement
On February 9, 2022, Several HUD offices sent out emails to their networks clarifying that housing providers who receive HUD funding should make voter registration opportunities and other election engagement available to their residents. Below are emails from the Office of  Public and Indian Housing, Multifamily Housing, Housing Opportunities for People with AIDS, and HUD's Office of Special Needs Assistance Programs. These emails state explicitly that there is no barrier from HUD-funded organizations participating in non-partisan election work, as long as certain types of funding are not used to pay for it.
Together, we can work to ensure all Rhode Islanders live in safe, healthy, affordable homes.