Read our 2022 Housing Policy Candidate Guide 
IMPORTANT ELECTION & CANDIDATE FORUM DATES
Deadline to register for General Elections – October 09
Deadline to apply for a mail ballot – October 18
Early in-person voting begins – October 19
Use our calendar below to stay informed about important election dates and deadlines as well as upcoming forums to learn more about your candidates.
Click the "+" sign above to add to your own calendar!
REGISTRATION
Making sure you are registered at your correct address is integral to your voter plan. You must be registered by August 14 to vote in the September Primaries and October 9 to vote in the November Elections. Use the links below to make sure your information is up to date.
PLAN YOUR VOTE
Deciding what method you will use to vote is an important step of successfully casting your ballot. Check out your options for voting by clicking the links below.
Click here to view and download
our "Plan Your Vote" PDF so you can be ready to cast your ballot.
DEADLINE TO APPLY FOR MAIL BALLOT TO VOTE IN NOVEMBER ELECTIONS: October 18
Voting from home is a safe and easy choice to cast your ballot when you are not able to make it to the polls.
View the image below to learn more about how to vote by mail.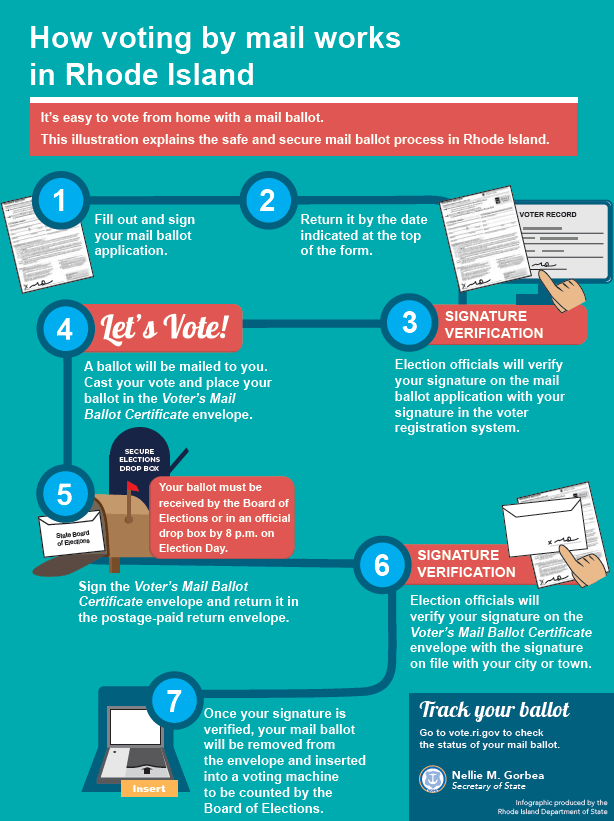 NOVEMBER GENERAL ELECTION EARLY VOTING PERIOD: October 19 – November 7
In the 20 days leading up to Election Day, you can vote in person at your city or town hall or at a designated location during regular business hours. This is a great option if you are unable to vote at your usual polling place on Election Day, or if you have run out of time to request a mail ballot. View voting locations and hours in your community.
Make sure to bring photo ID.
ELECTION DAY: November 8
Before heading to the polls, be sure to visit your personal Voter Information Center to:
Make sure to bring photo ID
Staying informed is key to making a thoughtful decision when time comes to choose your candidates. Before you head to the polls:
CANDIDATE RECORDINGS & COVERAGE
2022 Gubernatorial Forum on Senior Issues Presented by the Senior Agenda Coalition
Saving the environment: RI governor candidates share their strategies
RI Gubernatorial Candidates' Early Childhood Policy Forum 
WPRI 12 Gubernatorial Primary Debate
2022 Gubernatorial Forum: Raising Rhode Islanders Out of Poverty
Providence Mayoral Candidates
Providence mayoral candidates tackle questions from addiction recovery community
Mayoral forum challenges candidates on health equity in Providence
Candidates for Providence City Council Ward 3 address tough questions at east side forum
Democratic candidates for Secretary of State bring their ideas to first and only forum.
Dem candidates for RI treasurer clash over pension fund, qualifications
Who's running for mayor of East Providence? Here's a quick guide
Rhode Island Expands Voting Access
Exciting news! Thanks to your support, the Let RI Vote Act has been signed into law. The Let RI Vote Act (S2007), sponsored by Representative Katherine Kazarian (D) and Senator Dawn Euer (D), will make access to exercising the right to vote for Rhode Islanders a lot easier by:
Allowing voters to apply for a mail ballot online
Offering the choice to vote by mail without an excuse
Removing the notary and witness requirement for mail ballots
Establishing a multi-lingual voter hotline
Reducing application deadline for voters to request a Braille ballot from 45 days to 21 days before the election
Requiring at least one ballot drop box for each community
Expands eligibility for nursing home residents to opt-in to automatically receive an application for a mail ballot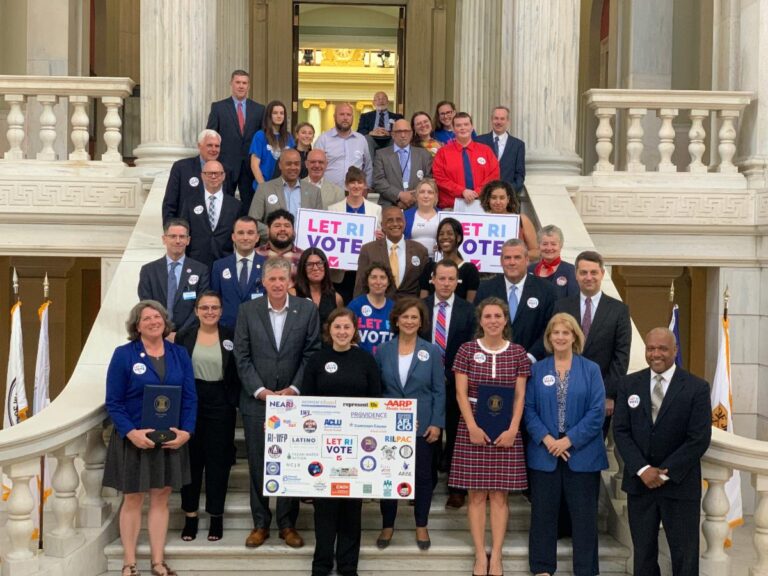 Thank you for those of you who showed up in support of the LRIV! With your successful advocacy, Rhode Islanders will benefit from improved voter access this election season, so MAKE SURE TO VOTE! (Have you moved since you last voted? Need to know where your polling place is? Go to vote.ri.gov to plan your vote!) State elections are critical to Rhode Island's prosperity and voting is the way to make your voice heard! Stay tuned for upcoming voter engagement resources and opportunities from Homes RI.
Housing Providers Encouraged to Support Voter Registration & Engagement
On February 9, 2022, Several HUD offices sent out emails to their networks clarifying that housing providers who receive HUD funding should make voter registration opportunities and other election engagement available to their residents. Below are emails from the Office of  Public and Indian Housing, Multifamily Housing, Housing Opportunities for People with AIDS, and HUD's Office of Special Needs Assistance Programs. These emails state explicitly that there is no barrier from HUD-funded organizations participating in non-partisan election work, as long as certain types of funding are not used to pay for it.
Together, we can work to ensure all Rhode Islanders live in safe, healthy, affordable homes.